Preschool Home Tuition
Research is increasingly identifying preschool education, or early childhood education, as key to a child's future success. Studies have shown that those who are engaged to learn early will gain a leading edge over the rest. Early childhood is a critical period that will mould a child's perception and habits of learning.
In order to capture a child's attention and maintain the enthusiasm to learn, education must be presented in an interesting way. If a child determined in early childhood that learning is tedious and difficult, the mentality will very likely persist as the child advances the academic ladder.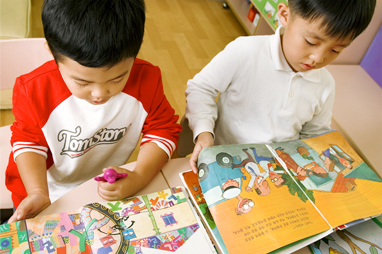 Preschool education can prepare children for the essential first stage in Singapore's education system—primary school. Without a doubt, Singapore has one of the most stringent schooling structures in the world, with various streaming threatening to leave students behind. Upon entering primary school, a child will have four years to prepare for the subject-based banding.

At a young age, motivation to learn stems from interest and a sense of accomplishment. A child who struggles to keep pace with the class is likely to become disinterested and resistant to learning. Preschool education helps to clear this hurdle by equipping children with important fundamental skills in areas, such as English, Mathematics, phonics and hanyu pinyin, that are useful for the academic challenges ahead.
Why preschool home tuition?
Preschool institutions, such as nursery or kindergarten, offer students a classroom setting similar to the ones they will experience later on in their lives. The environment provides them with the opportunity to interact with others and learn as a group.
However, a study conducted in Singapore has found a few flaws with current preschool establishments. Firstly, teachers that are hired by these organisations are usually less qualified and worse paid than primary school teachers. More importantly, the teacher to student ratio is too high to ensure effective learning where sufficient attention can be afforded on each child. In early childhood, attention is crucial to keep the child engaged. More often than not, a child would require a personalised learning plan as the child has yet to comprehend the concept of communal learning.
Preschool home tuition can mitigate these shortcomings. Home Tuition Care goes to great lengths to ensure that tutors recommended to parents are qualified and have a proven track record. In a one to one setting, the home tutor can prepare the child according to the child's progress. There is no pressure for the child to advance unless the child is prepared for it. This means that the child would not feel discouraged for lagging behind or unmotivated because the rest of the class is not at the same pace. The importance of preschool education cannot be understated, especially in a highly competitive environment like Singapore. Your child's success will be determined by the readiness ahead of formal education. Prepare your child now to stay ahead!
Home tuition for preschool student
Subjects
English
Science
Mathematics

Chinese
Malay
Tuition Rate
Diploma/A Level Tutor
$15-$18/hour

Undergraduate Tutor
$18-$22/hour

Graduated Tutor
$23-$25/hour

Full-time Tutor/NIE trainee
$25-$30/hour

Ex/Current School Teacher
$35-$45/hour


Time & Location
Please do not hesitate to inform our tuition coordinators about your preferred day and timing. We will make the necessary arrangement for you.
Registration
Search Tutor
Request for Tutor